This part of user guide introduces interactive map of smart contracts. You can have a quick & clear overview of all active & open contracts by opening Home Browser's updating market view on the special way described here next.
Special layer of map for open contracts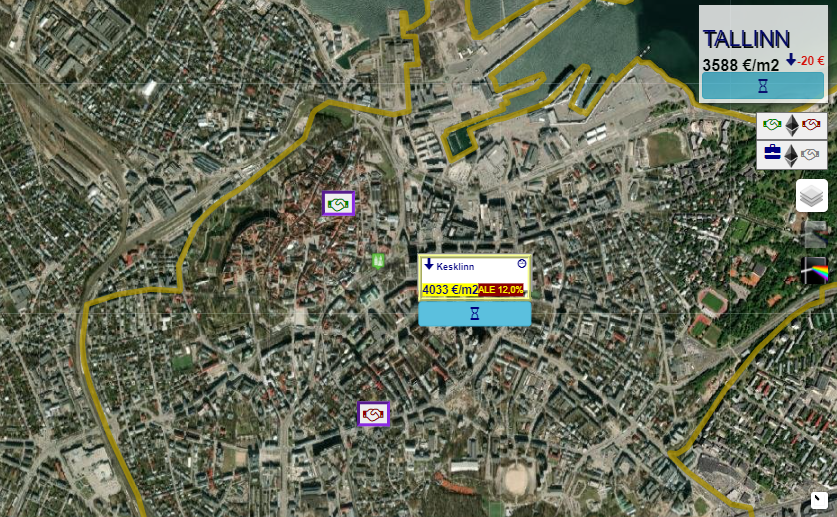 There is one nice & fast way to see all created active smart contracts at once. You just select this feature by clicking contracts own button on the right top corner of map. This turns on visible map's layer in which contracts appear like handshake icons.
These colors of handshakes icons mean:
Green => home buyer's active & open BID for the home
Red => home seller's (eq broker / owner) open ASK's offer
Next, by selecting & clicking any of icons opens its bubble of details where you can find the main facts about that active deal.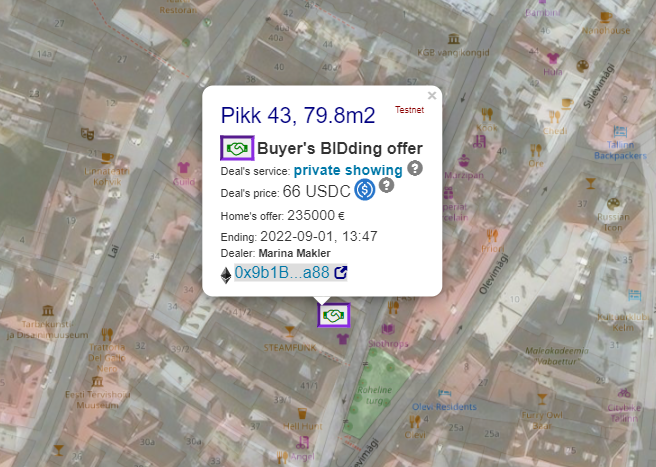 If the contract is attractive to you then you have a direct link at the bottom ( => 0xe0db1B…a88 above) of bubble to open its own contract's page where you can check it out better (+ buy it) to yourself.
Please, check that you allow popup windows too with the browser when you try this at very first time !
The map's view is following the state of market in real time so that when someone creates new contract it is published automatically there and if you decide to accept and buy one deal its icon is removed away also from wider audience.
That is it – congratulations you have now full super powers to find new deals of homes in very interesting way !
Using the right blockchains
Your market's view on the map is always based on your crypto wallet's active network & its account starting from the moment when you open the map. Our contracts are designed to work best on any Ethereum compatible blockchain but since the availability of used stable coins today we have limited their use for clients below about blockchains.
| Real Deals & Cryptos | Playing around Test Sandbox & Toy Coins |
| --- | --- |
| Ethereum Mainnet | Ropsten Test Network |
| | Goerli Test Netwok |
| Polygon Mainnet | Mumbai Test Network (Polygon's testing chain) |
Working & tested networks for Home Browser
Minimum Basic requirements
Note: when buying any test / real deals by own crypto wallet you need:
Register in + log in
Have a working email when creating new user name with Home Browser
The layer of deals is not available on map if you are not logged in first & have the wallet open to connect by any account from our map !
Suomeksikin pian myös täällä !